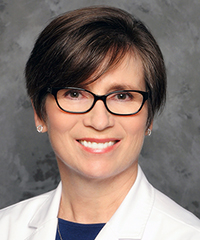 Heidi Yurong, NP
Job Title
Nurse Practioner
About Me
I graduated from Brigham Young University with my bachelor's degree in Nursing and Family Nurse Practitioner training in 1983. While there I was a member of Phi Kappa Phi National Honor Society. I worked as a hospital nurse, mostly in intensive care for the next 7 years. I obtained my master's degree in Nursing at the University of California San Francisco in 1990 as a Clinical Nurse Specialist in Critical Care Nursing. I worked in this role for five years. I started working as a nurse practitioner in 1995. My experience as a nurse practitioner includes Cardiology, Primary Care Medicine, and Dermatology.
Roles and Responsibilities
Working as a Family Nurse Practitioner in Dermatology allows me to care for patients throughout the life span from babies to senior citizens. Some of the dermatology conditions that I treat include psoriasis, precancerous growths, acne, warts, and mild forms of skin cancer. I also perform procedures including biopsies and removing benign growths, such as cysts and moles, and some types of skin cancer.
I am the Central Valley Area representative to the Kaiser Permanente Nurse Practitioner Regional Committee. This group meets quarterly to address nurse practitioner practice issues for Kaiser Northern California. I am also a member of the Nurse Practitioner Professional Practice Committee for the Central Valley. This committee addresses professional issues and promotes quality care for patients.
Professional Affiliations
California Association of Nurse Practitioners
American Academy of Nurse Practitioners
Dermatology Nurses Association
My Staff
Our dermatology department includes an excellent staff of registered nurses and medical assistants. The medical assistant who works with me is Jazmin Alexandra Lopez. Alex makes the day flow smoothly. She is very helpful to our members scheduling appointments and assisting with procedures.
My Colleagues
In Stockton, Dr. Moses Elam, dermatologist and Physician in Chief for the Central Valley; Dr. Elizabeth Kass, Dr. Olga Ulloa, Family Practice, and Dr. Robert Jackson, dermatologist. In Modesto, Dr. Hall, dermatologist and Joey Bruce, nurse practitioner.
Hobbies and interests
I am an avid quilter. One of my favorite things to do is listen to audio books while I sew. I also exercise regularly and love to hike. I have recently run with some of my nurse practitioner colleagues in some 5 K races. Trying to better my time in races has been a great way to stay motivated exercising.
My husband and I own a 70 year old Tudor style home and have enjoyed restoring it. We have two dogs, a Springer spaniel named Dudley and a labradoodle named Nellie. I make attempts at being a domestic goddess. I enjoy baking and try to not eat everything I bake.
Recent Adventures
The hardest physical challenge I have had was climbing Half Dome in Yosemite. My husband and I love the national parks and were able to visit Yellowstone and Grand Teton National Parks this year. I absolutely love mountains and sometimes wonder how I ended up living in a flat valley.
What I'm Reading and Browsing
I love English literature including Jane Austen, Charles Dickens, and George Eliot. I have recently read "Dancer" and "Let the Great World Spin" by Colum McCann. Another favorite author is Sebastian Barry author of "The Secret Scripture" and "A Long, Long Way." I love browsing quilt blogs.
Board Certification
Adult – AANP, AANP: American Academy of Nurse Practitioner
Learn More