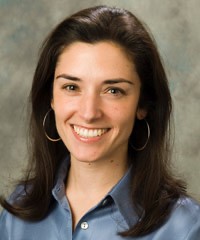 Stephanie Rowen, MD
Job Title
Plastic Surgeon
About Me
I chose plastic surgery because the field is diverse and combines surgical skills with artistic creativity. Every patient is different and requires an innovative approach to solve each problem. As a woman, I have a special interest in breast surgery, both cosmetic and reconstructive. I also have an interest in hand surgery and feel that my specialty fellowship training in hand and upper extremity surgery will allow me to offer my hand patients the expertise they require.

I grew up here in the Bay Area and attended Stanford University for my undergraduate work. I then traveled to the East Coast for my medical degree from Eastern Virginia Medical School. The University of California Davis Medical Center was my next destination for my residency in plastic and reconstructive surgery. I then spent another year in Sacramento to complete a fellowship in hand, upper extremity and microvascular surgery at the University of California Davis Medical Center. I am glad to be back home in the Bay Area.

I believe that a well-informed patient is a satisfied patient. I take the extra time to explain medical conditions and therapies to my patients, so they can make informed decisions and know that they are participating in their own care. I want my patients to know that they can come to me with questions about their healthcare and their need for surgery. Good communication between the patient and the physician will make for a better outcome for everyone. Keeping you comfortable after surgery is very important to us. Your physicians, nurses and other care givers will work together to ensure that your pain is addressed and treated as effectively and as safely as possible.
I encourage my patients to be actively involved in their healthcare. Being in the best health possible before your surgery will improve your results dramatically. For my hand patients, I encourage and implore you to be diligent with your hand therapy and post-operative exercises. For all my patients, avoid smoking, follow your pre-operative and post-operative instructions, avoid sun exposure as much as possible and always wear sunscreen!
Professional Affiliations
Member, American Society of Plastic Surgeons
My Staff
My office staff of nurses, medical assistants and schedulers is very involved in my patients' care. They are all excellent and provide professional care and a positive, caring environment for my patients.
My Colleagues
My colleagues in the Department of Plastic Surgery are all world-class surgeons whom I would trust for my own family's care. I feel lucky to work with such an amazing group of surgeons.
Hobbies and interests
When I'm not at work, I enjoy spending time traveling, exercising, skiing and cooking.
Recent Adventures
One of my recent adventures was a two-week trip to New Zealand. I rode in a "Zorb", ice climbed on a glacier and cruised Milford Sound overnight. I highly recommend New Zealand as an amazing vacation destination!
My Training, Certifications and Licensing
Medical Education
Eastern Virginia School of Medicine, Norfolk, VA
Internship
UC Davis Medical Center, Sacramento, CA