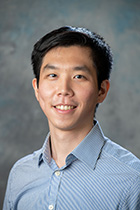 About Me
I discovered my interest in dermatology early on in medical school when I noticed the huge impact skin conditions can have on a person's well-being. The joy of seeing patients smile from their visible improvement in their skin conditions with dermatologic therapies is a feeling that has continued every day in clinic.
As a dermatologist, I am trained to diagnose and treat various skin, hair, and nail conditions, from diagnosing and removing skin cancers to assessing and treating many different rashes and skin lesions. I enjoy seeing patients of all ages. My goal is to provide excellent patient care based on scientific evidence, while maintaining a personalized approach with each patient.
I graduated medical school in 2016, completed dermatology residency training in 2020, and joined Kaiser Permanente shortly thereafter.
Before moving to California, I heard of the benefits of Kaiser Permanente's integrated healthcare system from my colleagues. The dedication to preventive medicine and collaboration among the many different specialties of medicine allow physicians to provide a high level of patient care. I am excited to be a part of the Kaiser Permanente dermatology team.
Why Cosmetics?
Part of my dermatology training includes a variety of cosmetic procedures. I enjoy being able to perform these cosmetic procedures in a specialized clinic focused on the latest cosmetic services.
My Colleagues
The dermatologists, plastic surgeons, and staff at the Cosmetic Services in Campbell are a joy to work with.
Professional Affiliations
American Academy of Dermatology
American Society for Dermatologic Surgery
Medical Education
University of Chicago Pritzker School of Medicine, Chicago, IL
Internship
NorthShore University HealthSystem, Evanston, IL
Hobbies and interests
My hobbies and interests include spending time with my family and friends, singing karaoke, watching/playing a variety of sports, exploring new restaurants, visiting museums, traveling to new places, and tending to my herb garden.