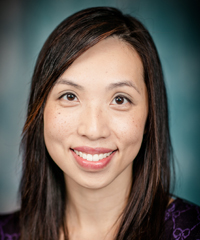 About Me
I was born and raised in Hong Kong, and so I am fluent in Cantonese and Mandarin. I first came to the US for college and enjoyed my four years in California immensely, where I graduated from Stanford University with distinction with a major in chemical engineering and minor in biology. When the time came to decide on a medical school, I decided to explore the east coast. I moved to Philadelphia, and attended the University of Pennsylvania School of Medicine where I was elected to the Alpha Omega Alpha Honor Society.
In medical school, I was exposed to dermatology through both clinical and lab research, involving more common diseases such as allergic contact dermatitis as well as rarer ones such as skin lymphomas. Growing up in the multicultural city of Hong Kong, I was also particularly interested in diseases of ethnic skin, and so I decided to complete my residency at Henry Ford Hospital in Michigan which has a unique multicultural dermatology clinic. While in residency, I continued laser research in patients of skin of color, and was fortunate enough to publish articles and give nationwide presentations on the subject. Before I finished my residency, I was able to experience middle-America which was almost as rewarding as the clinical training itself.
Having developed a keen clinical interest in multicultural dermatology, I decided to move back to the most diverse place that I know…sunny California. I happily joined the Kaiser Permanente family to be part of the integrated health care system. From my experience, I believe the best care is delivered when the patient makes informed decisions. I encourage you to be proactive with your health and ask me questions anytime during or after your visit.
Professional Affiliations
Fellow, American Academy of Dermatology
Hobbies and interests
Outside of clinic, my husband and I love to travel around the world and experience different cultures – Antarctica is the only continent we have yet to explore! I am also an avid dog lover and enjoy good food whether at home or in a restaurant. To stay active I will occasionally take a swing at golf.
Medical Education
University of Pennsylvania School of Medicine, Philadelphia, PA
Residency
Henry Ford Hospital, Detroit, MI
Fellowship
Stanford University School of Medicine, Stanford, CA
Board Certification
Dermatology, American Board of Dermatology
Learn More