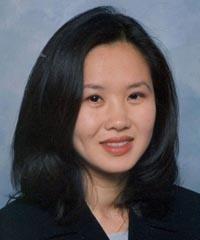 About Me
I consider myself incredibly blessed. Not only do I practice Mohs surgery and dermatology, specialty fields that I love, but I also get to practice them at Kaiser Permanente. Mohs surgery enables me to cure skin cancer and practice the creative dexterity of reconstructive surgery, while general and cosmetic dermatology allow me to help patients manage their skin conditions and enhance the way they look. Practicing medicine at Kaiser Permanente enables me to focus on you, the patients, rather than on running the business aspects of a medical practice.
I enjoy being meticulous with my work and pay careful attention to where incision lines are placed and sewn, so that my patients have the best cosmetic outcome. My goal is to make the scar lines from Mohs surgery and reconstruction as invisible as possible. Likewise, at our Kaiser Permanente Cosmetic Center, I love using the latest cosmetic techniques and procedures to help patients enhance their self-image and confidence.
While I enjoy all aspects of dermatology and Mohs surgery, I have special interests in the following:
Skin cancer
Mohs surgery and facial plastics reconstruction
Scar revision
Ethnic skin problems
Treatment of wrinkles with Botox, fillers and lasers
Treatment of leg veins
Treatment of sun spots and facial blood vessels using lasers
I believe in good patient communication and education. I try to keep my patients well-informed about their skin conditions and treatment options. Through good patient-doctor relationships, my patients and I can make the right decisions regarding a treatment plan that will best fit their lifestyle. I also try to provide the best care possible in a relaxing and comfortable environment, especially during Mohs surgery or other lengthy procedures. My staff and I will strive to continually reassure and explain, as well as entertain you, in order to alleviate any stress. Being well-prepared mentally and physically for the surgery or procedure will help you alleviate anxiety and help enhance the final outcome of the surgery or procedure.
Professional Affiliations
Member, American College of Mohs Surgery
Member, American Academy of Dermatology
My Staff
My staff includes a receptionist who helps with scheduling, medical assistants who assist in surgery, nurses who help with clinic flow and histotechs who process skin tissues. They are a wonderful group and together we will work as a team to meet your all health care needs.
My Colleagues
One of the reasons I enjoy working at Kaiser Permanente is because I have colleagues. Practicing medicine in a group setting that allows me to easily refer patients and facilitates excellent quality control. I value my colleagues' clinical opinion and input.
Hobbies and interests
When I am not practicing medicine, I enjoy spending time with my husband, three children and family.
Medical Education
Tufts University School of Medicine, Boston, MA
Residency
UC Davis Medical Center, Sacramento, CA
Fellowship
University of Colorado Health Sciences Center, Denver, CO
Board Certification
Dermatology, American Board of Dermatology
Learn More