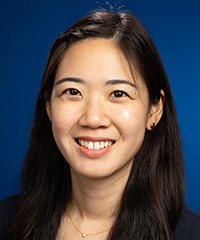 About me
I was born at Kaiser Permanente in Redwood City and grew up on the Peninsula. After attending Stanford University for my undergraduate studies, I enrolled in the UCLA Medical Scientist Training Program where I graduated in 2016 with an MD and a PhD in Bioinformatics, with a focus on the immunology of dermatologic diseases. I stayed in Los Angeles to complete my intern year in Internal Medicine at the Kaiser Permanente Los Angeles Medical Center, then traveled to the Midwest for my Dermatology residency at the University of Michigan in Ann Arbor. I joined Kaiser Permanente in 2020 and feel privileged to be back in the Bay Area and a part of the Kaiser Permanente team.
Why Cosmetics
My goal is to use my scientific and medical knowledge to bring out the best version of you and your skin.
In my spare time
You can find me exploring the beach or redwood forests with my husband and two small children. I also am an avid sourdough bread baker.