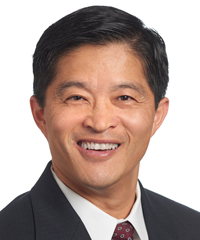 Eric Lin, MD
Job Title
Plastic Surgeon
About Me
Plastic Surgery is derived from the Greek word, plastikos, which means to reshape or reform. Plastic surgeons use various techniques to reconstruct different body parts to normalize form & function. We also perform cosmetic surgery to improve appearance.
I gained my first glimpse into plastic surgery watching Dr. Timothy Miller, now the Chief of Plastic Surgery at UCLA, realigning pieces of fractured facial bones with screws & plates, giving the patient back his form & function. The same afternoon, he performed a facelift, providing a rejuvenated look for an actress.
During my residency at the University of Washington in Seattle, I got exposure to a variety of plastic surgery procedures, ranging from reconstruction of breasts, burns, and congenital deformities to cosmetic surgery of face and body.
After completion of residency, I sought a position in a large multi-specialty group practice where I could focus on high-quality patient care. I was very pleased to join Kaiser Permanente and worked for the Fresno Medical Center, where I served as the Chief of Plastic Surgery. In 2004, I transferred to Santa Rosa Medical Center and have been delighted to find the same focus on uncompromising service and care, all that I would want for my own family.
Interesting story from my training – PF was a man in his 60's with a history of esophageal cancer. He underwent surgery to remove his esophagus that successfully treated his cancer. However, he had to rely on a liquid diet for the rest of his life. His only wish in life was to be able to eat steak again and presented to the plastic surgery clinic requesting reconstruction.
Due to his many prior surgeries and other medical conditions, there was only one option, create an esophagus by rolling a skin flap from his back, then connect the skin roll to his neck and stomach, where his esophagus used to sit. Additionally, blood vessels had to be reconnected under the microscope. After many stages and hours of operation, the new esophagus was in place. It was complicated by poor venous blood flow, and we had to assist the circulation by placing leeches on the new organ. Imagine having leeches on your chest all the time for a week, with a nurse forcing them off every 2 hours from sucking on your blood. After a long recovery, the new esophagus survived, and he was able to eat steak again.
Roles and Responsibilities
I am currently the Chief of the Department of Plastic Surgery.
Professional Affiliations
Board certified by the American Board of Plastic Surgery.
Member, American Society of Plastic Surgeons
Member, California Medical Association
Member, Sonoma County Medical Association
Current projects or research:
Silicone breast implants.
Poly-l-lactic acid (Sculptra) injection for lipodystrophy and aging.
My Colleagues
My colleagues at Kaiser Permanente are my best health resources.I also refer to the Merck Manual or Harrison's Principles of Medicine. I browse through a few journals regularly, including Plastic and Reconstructive Surgery, New England Journal of Medicine, and Journal of American Medical Association.
Family and Friends
As a single mom with limited English-speaking skills, my mother supported 3 children as a seamstress in downtown Los Angeles. Despite various challenges, she made certain we had a wonderful childhood while achieving our best in school. She encouraged and supported all of us to pursue the highest education. She is very proud of my sister, who quit a promising career in Human Resources and earned a PhD in Psychology, and my brother, who obtained a master's degree and a law degree.
I was most fortunate to meet my wife in college. After we dated for 6 years, she gave up her aspiration of becoming an artist in Metropolitan Los Angeles and followed me to Seattle. She supported me in every way through the very vigorous 6 years of residency training. Most wonderful of all, she is the best mom to our son and daughter.
We enjoy running around with our mini golden doodle.
An interesting story about my family is that my father-in-law loves to fish. When my wife and I were dating, we joined him one day on the Redondo Beach pier in Southern California to try to impress him. One must understand that I have never caught a fish up to that point. Well, somehow the stars were aligned. We ended up with over 100 mackerels that day, and I established myself as a capable companion for his family.
Hobbies and interests
My hobbies are travel, music, movies, and tennis.
Recent Adventures
The best trip I've taken was our honeymoon to Maui, where we did parasailing, snorkeled, and saw wild boars from a helicopter. It was a great break before driving along the coast from Southern California to Seattle for my surgical training.
I have been fortunate to travel to many places. There are so many favorites, including beaches in Taiwan, Canon Beach in Oregon, Monterey, Maui, and Wayfarer's Chapel in Palos Verdes. My favorite now remains our house in Santa Rosa, where we have beautiful surroundings, room to garden and room for kids to roam. It's a place I can relax and play.
I had an opportunity to travel to Oaxaca, Mexico for two weeks as part of Northwest Medical Teams International. We provided plastic surgery care for local residents. It was challenging to work in a limited space with limited resources for many residents who lined up daily, many of whom walked for days to see us. One truly appreciates how fortunate we are in the United States with modern care and facilities. I still remember vividly the huge smile on a mother's face after she was able to breastfeed her child who just had her cleft lip repaired. We rewarded ourselves nightly after each long day's work with fabulous local cuisine.
What I'm Reading and Browsing
Current readings are Journal of Plastic & Reconstructive Surgery and How the Mighty Fall. My favorite book or author is Tuesday with Morrie by Mitch Albom. Lord of the Rings was a great movie.
Medical Education
UC Los Angeles Medical Center, Los Angeles, CA
Residency
University of Washington Medical Center, Seattle, WA
University of Washington Medical Center, Seattle, WA
Board Certification
Plastic Surgery, American Board of Plastic Surgery
Learn More