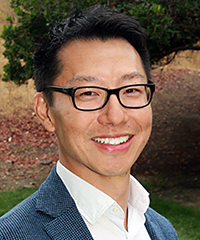 About Me
I feel honored and privileged to be a dermatologist and to be working at Kaiser. This sense of gratitude is what drives me each day to give my best and serve my patients and colleagues.From humble circumstances I was fortunate to attend college at UC San Diego, which prepared me on a career path in science and medicine. My interest in medical research, especially immunology and immunotherapy, developed while working in a research lab at UC San Francisco, which led me to pursue a joint MD/PhD degree at the University of Arkansas for Medical Sciences (UAMS) in Little Rock with my mentor who I met at UCSF. I fell in love with the people and city of Little Rock and was fortunate to stay at UAMS to complete my dermatology residency training.I am excited to be at Kaiser and to be in the field of dermatology with the great strides we are making in the understanding of the intricate mechanism of dermatologic diseases leading to incredible advances in effective, life-changing, life-saving treatments.COSMETIC SERVICES:
I am pleased to be one of a team of physicians with special expertise in aesthetic medicine and surgery.
Our cosmetic service specializes in the treatment of wrinkles, age spots, facial redness and enlarged blood vessels, sun damage and aging skin, and removal of unwanted benign growths, such as skin tags, moles, and seborrheic keratoses. We offer treatments with Botox and the latest fillers for wrinkle correction and lip enhancement as well as treatment with lasers, cryotherapy, chemical peels, and prescription strength skin therapies. We also have several hand-selected, professional cosmeceutical skin care lines available that are of the highest quality and that are only available in doctor's offices and by doctor's recommendation.
We can customize a plan designed specifically for you, taking into account your personal goals and desires. My philosophy is to offer you a gentle, ethical and balanced approach in helping you most effectively achieve your personal aesthetic goals.
Please note that cosmetic services and consultations are not covered by your health plan and thus cosmetic evaluation and treatment services are provided at a fee-for-service visit, separate from a medical dermatology visit.
For further information about cosmetic services or for a cosmetic dermatology appointment you may visit the cosmetic services link or call (415) 492-6783.
Family and Friends
I returned back home to the bay area with my wife and two boys to be close to family and friends.
Hobbies and interests
I love traveling, playing sports, watching movies, and binge-watching tv shows.
Medical Education
University of Arkansas for Medical Sciences, Little Rock, AR
Internship
University of Arkansas for Medical Sciences, Little Rock, AR