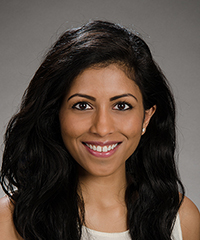 Malika Atmakuri, MD
Job Title
Head and Neck Surgeon
About Me
I am proud and honored to be a surgeon in the Kaiser Permanente Head and Neck Surgery department in San Rafael. Through my years of residency training in Otolaryngology and fellowship specialization in Facial Plastics and Reconstructive surgery, I strive to bring you the very best care.I specifically specialize in septoplasty and rhinoplasty (addressing the appearance of the nose and its ability to breathe), Mohs surgery and reconstruction (for skin cancer), aging face surgery (face and neck lift, upper and lower eyelid surgery, brow lift, lip lift), fillers, botox, facial nerve disorders and surgery (Bells Palsy, botox, facial reanimation), and transgender facial feminization surgery. I also perform complex sinus surgery and parotid surgery, and neck surgery.
Roles and Responsibilities
Facial Plastic Surgery- Reconstructive Surgery- Mohs Surgery- Head and Neck Surgery
Professional Affiliations
American Academy of Facial Plastics and Reconstructive Surgery (AAFPRS)American Academy of Otolaryngology – Head and Neck Surgery (AAO-HNS)Women in Otolaryngology (WIO)
Hobbies and interests
I have valued my experiences on mission trips, being able to provide specialized care to areas where it is unavailable. I have been fortunate enough to spend time in Honduras on more than one occasion, performing much needed head and neck surgery. I have traveled to Cambodia for a specialized mission performing nasal reconstruction, cleft lip/palate, and microtia surgery. In my spare time, I look forward to discovering new hiking trails and mountains with my dog. She may be a small black Pomeranian (IG: @tikatikapompom) but she loves the outdoors as much as I do. I also enjoy traveling, scuba diving, boxing, HiiT fitness, spicy food, and sourdough bread. While I am originally from New York City, I fell in love with life on the west coast after spending six years in the Pacific North West. I appreciate the beauty of the Bay area and everything it has to offer.
My Training, Certifications and Licensing
Medical Education
Pennsylvania State University College of Medicine, Hershey, PA
Residency
University of Washington School of Medicine, Seattle, WA