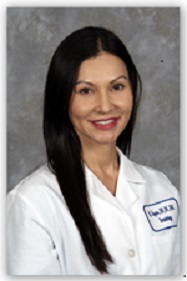 Maryrose Espil, RN, MSN, DNC
About Me:
I have been a nurse for more than 25 years. Currently, I am the Charge Nurse at Stockton Kaiser Permanente Dermatology and Cosmetic Dermatology. I have enjoyed working in Cosmetic Dermatology and Dermatology for over 15 years. I am passionate about fabulous skin care for all. I have extensive experience in laser hair removal, laser tattoo removal, laser skin resurfacing, microdermabrasion, Intense Pulsed Light, assisting with liposuction, and skin care regimens.
I hold a national certification in Dermatology for Registered Nurses and I work as an extended role RN at Stockton Kaiser Permanente Dermatology. I care for patients with acne, keloids, alopecia areata, rosacea and other skin conditions. I tailor skin care regimens for each person to their specific concerns, budget and time constraints. I enjoy the skin care journey with each person I see working together to achieve the outcome possible.
Hobbies and Interests:
I love the outdoors, finding new recipes for my Instant Pot and traveling. I camp anywhere from the mountains to the beach while relaxing and finding time to hike and enjoy nature. Some of my favorites places include Hawaii, Spain, Paris and Disneyland.