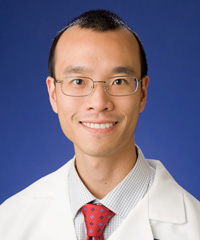 About Me
I was born in Southern California and grew up in Long Beach. I first came to the San Francisco Bay Area where I went to UC Berkeley, majoring in Molecular and Cell Biology. After completing my
undergraduate degree in three years with high honors, I moved to the Midwest for medical school. At the Chicago Medical School at the Rosalind Franklin University of Medicine and Science, I graduated at the top of my class in 2005 and was inducted into the Alpha Omega Alpha Medical Honor Society.
Another move took me to Honolulu for a year, where I completed my internship in internal medicine at the University of Hawaii, earning an outstanding intern award in the process. I then went to State University of New York Buffalo for my residency in dermatology. During my last year of residency, I was honored to be selected as chief resident for the residency program. Upon finishing the residency, I returned to the San Francisco Bay Area where I joined Kaiser Permanente in 2009.
At my clinic in Santa Clara, I specialize in general dermatology, dermatologic surgery, and pediatric dermatology. I also work at the Kaiser Permanente cosmetic clinic in San Jose, where I do cosmetic dermatology.
Roles and Responsibilities
I was the Module Leader for the Milpitas dermatology department for 6 years before transferring to Santa Clara. I am also an "Innovation Consultant", in a team that strives to bring new innovations to the entire Santa Clara Medical Center. In addition, I represent the dermatology department on the Comprehensive Cancer Care Committee at Santa Clara. I am a clinical content reviewer for the Kaiser Permanente Northern California regional cancer website.
Hobbies and interests
During my free time, I enjoy hiking, photography, and travel. So far, I have been to 49 of the 50 states,9 of the 13 Canadian provinces, much of Europe, and several countries in South America and Asia. I also like to bike, and I bike to work whenever I get the chance.
Once a week, I paddle on a dragon boat team named Lightwave. We compete at local dragonboat events at Lake Merced (San Francisco), Fremont, and Treasure Island (San Francisco), as well as in
competitions further away such as at Vancouver and Long Beach, CA.
I am an active member of Toastmasters International. I have received the Distinguished Toastmaster award (the highest award that the organization bestows) and have won several local speech contests.
Medical Education
Rosalind Franklin University of Medicine and Science, North Chicago, IL
Residency
State University of New York at Buffalo School of Medicine, Buffalo, NY
Board Certification
Dermatology, American Board of Dermatology
Learn More