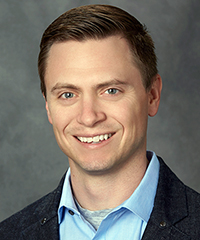 David Russell, MD
Job Title
Oculoplastic Surgeon
About Me
I was twelve years old on a humanitarian trip to India to build an orphanage when I decided I wanted to become a physician. I decided at that time that I was going to dedicate my life to helping other people in need. Since then, I have endeavored to be the best possible student, clinician, and surgeon I could be so my patients would receive the best possible care they deserve.
My love for surgery came to life during my first year medical school anatomy course. The anatomy of the face and head stood out as particularly challenging and intriguing. There were so many vital structures in such a small space. I loved it! I set my sights on becoming a facial plastic surgeon, which would allow me to combine an advanced understanding of the facial anatomy with an appreciation and desire for artistic creation.
After graduating from medical school in Colorado in 2006 I completed a residency in ophthalmology at the University of North Carolina. I served as a Lieutenant Commander in the United States Navy practicing general ophthalmology and oculoplastic surgery in San Diego. I was the assistant residency program director dedicating much of my time to teaching residents ophthalmic and oculoplastic surgery. To obtain more advanced training in oculofacial plastic and reconstructive surgery, I completed an ASOPRS (American Society of Ophthalmic Plastic and Reconstructive Surgery) fellowship in San Francisco at a combined program with California Pacific Medical Center and the University of California San Francisco.
Roles and Responsibilities
My career at Kaiser Permanente just began in July of 2016. I am so happy to have the opportunity to join the Kaiser Permanente family. As an oculoplastic surgeon I see both adults and children with a variety of disorders requiring plastic and reconstructive surgery in the periocular, orbital, and facial tissues. Areas of interest include: eyelid and orbital oncology/surgery, tear duct surgery, reconstructive and functional eyelid procedures, and aesthetic facial rejuvenation procedures/surgery.
I see my role as a physician as being an educator. Being in a subspecialized field of medicine, often times patient come to my office looking for answers where many others have not been able to help. I will take the time to connect with my patients to understand their needs and then educate them on their options. Together, we can then decide on an individualized treatment plan.
Family and Friends
I was born in small town Wisconsin and my family moved to Colorado when I was twelve. I stayed in Colorado for high school, college, and medical school.
Hobbies and interests
I enjoy surfing, hiking, snowboarding, and running. I also love cooking and baking!
Medical Education
University of Colorado School of Medicine, Denver, CO
Residency
University of North Carolina at Chapel Hill, Chapel Hill, NC
Fellowship
The Pacific Center for Oculofacial and Aesthetic Plastic Surgery, San Francisco, CA
Board Certification
Ophthalmology, American Board of Ophthalmology
Learn More