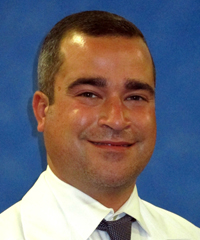 Frank Garritano, MD
Job Title
Head and Neck Surgeon
About Me
Thank you for taking the time to visit my webpage. I am a second generation Italian-Irish-German American who was born and raised in New York City, and that is where I attended both college and medical school. I am the first and only physician in my family. Although I enjoyed living in New York, I transplanted to the Bay Area in 2016 and I have been enjoying the sunny California weather ever since.
I completed my training in Otolaryngology – Head & Neck Surgery as well as additional fellowship training in Facial Plastic & Reconstructive Surgery. During that time I had the opportunity to participate in several international humanitarian medical missions. I have traveled to Guatemala, Ecuador, Vietnam and the Philippines performing reconstructive surgery on children born with cleft lip, cleft palate, and microtia (congenital absence of the ear). These have been some of the most rewarding experiences I have had as a person and as a physician, and those experiences continue to influence my practice here at home. I plan to continue this humanitarian work for many years to come.
I have wanted to be a physician for as long as I can remember, and I love being able to apply my knowledge of medicine to help take care of my patients. I believe that patients really benefit from Kaiser Permanente's comprehensive and integrated approach to healthcare and I was very pleased to be able to join the Kaiser Permanente family. I feel Kaiser Permanente allows me to spend my time focused on doing what I enjoy the most – providing the most comprehensive and compassionate care possible for my patients.
Roles and Responsibilities
I currently manage the full spectrum of problems within the field of Otolaryngology – Head & Neck Surgery out of the Head & Neck Surgery offices in San Leandro and Union City.
Given my additional training in Facial Plastic & Reconstructive Surgery, I have particular interest in plastic surgery of the head and neck. This includes the reconstruction of defects related to traumatic facial injuries and cancer surgeries, as well as a full spectrum of functional and cosmetic procedures. I am happy to be able to offer a variety of non-invasive and surgical procedures through the Cosmetic Services Department.
Professional Affiliations
American Academy of Otolaryngology – Head & Neck Surgery
American Academy of Facial Plastic & Reconstructive Surgery
American College of Surgeons
Hobbies and interests
Being a fairly new transplant to the Bay Area, I have enjoyed exploring the region and taking advantage of the sunny California weather by spending as much time outdoors as I can. I love spending time with my dog Buster, a German Shepherd / Siberian Husky mix. I enjoy hiking, jogging, gardening, music, and reading. I love cooking, and I enjoy experimenting with new ingredients or cuisines as well as exploring the many different restaurants available in the Bay Area. I love the beach and I am a PADI certified scuba diver. I also consider myself an amateur photographer and particularly enjoy landscape photography.
Recent Adventures
My most recent adventure involved driving across the country from New York City to California. I thoroughly enjoyed the opportunity to see so much of our beautiful country and how much the climate and geography changes as you travel from the east coast to the west. It was a pleasure to have the chance to stop and visit places I never had the opportunity to see before along the way.
What I'm Reading and Browsing
I enjoy keeping abreast of the latest news and advances in my profession by keeping current with recent medical journals and books. I also love keeping up with local, national, and international events, and you can usually find me reading the latest newspaper or news magazine in my free time.
Medical Education
Albert Einstein College of Medicine, Bronx, NY
Residency
Penn State Hershey Medical Center, Hershey, PA
Fellowship
Quatela Center for Plastic Surgery, Rochester, NY
Board Certification
Otolaryngology – Head and Neck Surg, American Board of Otolaryngology Head and Neck Sur
Learn More