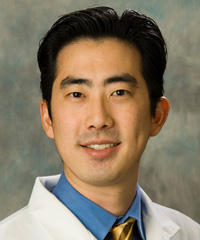 About Me
I chose to join Kaiser Permanente back in 2005 because I believed in its integrated model of health care delivery. Its success was based on keeping its patients healthy, through both treatment and especially through prevention. I believe that this is even truer today.
During medical school, I found myself particularly interested in the skin and decided to become a dermatologist. The skin is a truly incredible organ that serves many important functions, but at the same time can also manifest a variety of skin disorders. Today, I find myself interested in all aspects of dermatology and spend four days a week at Kaiser Permanente San Jose Medical Center focusing on general dermatology.
In addition, I spend one day a week at our San Jose Cosmetic Services Center providing aesthetic services including Botox, fillers (including Restylane and Juvederm), laser treatments (including resurfacing, hair removal, red and brown spot removal), spider vein treatment, and removal of benign skin growths, including moles.
Some general recommendations regarding good skin care practices include avoiding excessive sun exposure, remembering to wear sunscreen and avoiding artificial tanning beds. If you have any questions regarding skin care, I would be more than happy to meet and discuss them with you in my office.
Of utmost importance to me is developing a good physician-patient relationship. I believe that this is at the center of what drives good patient care. Patients should always feel comfortable asking questions that may concern them regarding their skin. In that way, they can truly understand their skin condition as well as the different treatment options available to them.
Hobbies and interests
When I am not at work, I enjoy playing basketball, traveling, cooking and rooting for the California (Berkeley) Golden Bears.
Medical Education
Columbia University College of Physicians and Surgeons, New York, NY
Residency
New York Presbyterian Hospital Weill Cornell Medical Center, New York, NY
Board Certification
Dermatology, American Board of Dermatology
Learn More