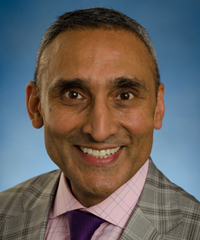 About Me
I joined Kaiser Permanente right after finishing my residency. I was drawn by its integrated model of care, collaboration between different medical specialties, and focus on disease prevention and health promotion. It has turned out to be all that, and more.
For example, Kaiser Permanente is a leader in incorporating technology to improve your health. Health Connect, our electronic medical records system, creates efficiencies in my work. My patients' medical history is instantly retrievable, other providers' notes are fully legible, and I can see at a glance any potential conflicts between different medications. There is no question that the advent of Health Connect has led to improved patient care. I invite you to benefit from Kaiser Permanente's investment in technology by signing up at our web site, www.kp.org. Our web site has incredible information about medical conditions and healthy lifestyles, and you can e-mail me and your other doctors through our web site.
I have lived and worked in different parts of the Bay Area. I now live in San Francisco where I enjoy the city's natural beauty and its incredible celebration of diversity.
I see patients of all ages, from newborns to the very elderly. Indeed, I often see three generations of a family. Since skin is the body's largest organ, I see it as a mirror of a person's overall health. The skin provides clues to what is transpiring inside. I am particularly interested in cosmetic work, such as Botox and Dysport treatments that relax facial muscles and lines, various fillers such as Restylane, Perlane, Juvederm, and Radiesse that get rid of wrinkles, sclerotherapy for leg veins, and cosmetic surgery. Once patients decide they need a cosmetic procedure, it often becomes a visceral emotional need. It is very satisfying to fulfill that emotional need. I keep current with the latest developments and procedures in my field through attending professional conferences and publishing articles. I have twice been named as one of the top doctors in California by Consumer Checkbook.
Everyone asks me for the secret of good skin. It is simple: It is overall good health. And health is not just physical; it is also emotional, intellectual, and spiritual. I live by an ancient Indian saying, "Our body is a house with four rooms – physical, intellectual, emotional, and spiritual – and every day, we should try to visit each room."
Physical: Eat a healthy diet, with lots of fruits and vegetables. Exercise. Get a good night's sleep. Don't smoke. Stay out of the sun. Use sunscreens and clothes to protect yourself from the sun.
Intellectual: Challenge your mind. Stay engaged. Throughout your life, keep learning new things.
Emotional: Stay connected to your family and friends. What you wish to receive from others, give away.
Spiritual: Live by the Golden Rule: Treat others as you would like to be treated. Share your blessings. From what we take, we make a living; from what we give, we make a life.
Consider looking at your overall health holistically, and your skin will glow.
Other Languages: Punjabi, Hindi, Urdu.
Other KP Facilities: Hayward (2001-2007); San Jose (1990-2001)
Began Practice: 1990
Joined Kaiser Permanente: 1990
Roles and Responsibilities
It is challenging and satisfying to give our patients state of the art care in a professional and clinical setting that helps them feel and look their best.
We provide a wide range of services e.g. esthetician consultations that create a custom plan for you to help your skin glow – with products, microdermabrasion, peels, and Obagi. We use lasers for the removal of unwanted hair from any part of your body, removal of unwanted red spots and blood vessels, tighten your skin without surgery (Fraxel and Fraxel Dual), IPL photo-rejuvenation of your skin, removal of freckles, age spots, and brown spots, and to undo sun damage and resurface your skin.
We remove unwanted moles, cysts, and other growths from your body. We use sclerotherapy with Asclera to remove unwanted veins from any part of your body (most commonly the legs). We use Botox and Dysport to relax your facial muscles and lines and give you a more restful look. Finally, we use fillers such as Restylane, Perlane, Juvederm Ultra, Juvederm Ultra Plus, and Radiesse to remove facial lines and restore the fullness of your youth.
Awards
Twice awarded One of the Top Doctors in California by Consumer Checkbook
Community Faculty Award of the Year, Department of Dermatology, University of California at San Francisco (2013)
Conrad Stritzler Memorial Award of the Dermatological Society of New York (1990)
Doctoral Trainee Award by the Society for Investigative Dermatology and the American Federation for Clinical Research (1985)
Professional Affiliations
American Academy of Dermatology
Gay and Lesbian Medical Association
San Francisco Medical Society
California Medical Association
American Society for Dermatologic Surgery
My Staff
I work with a highly dedicated team of medical assistants, estheticians, and Registered Nurses (RNs) who regularly take part in Continuing Medical Education so they can give you the latest and highest quality of care. I personally get care from them all the time and have been deeply impressed with their knowledge and expertise.
My Colleagues
I enjoy the highly collaborative atmosphere between providers in my department. I have known some providers in the San Francisco Dermatology department for nearly 30 years.
Family and Friends
I live with my husband Ken and our two beautiful children – Kabir and Meera – in San Francisco, quite close to the Kaiser Permanente Medical Center.
I am fortunate to have a large family in the Bay Area consisting of nearly 100 members. My family gives me my deepest nourishment and fulfillment.
Hobbies and interests
My hobbies include cooking for my family, reading, and writing. I THRIVE through playing tennis, hiking, jogging, working out, and creating healthy meals.
Medical Education
All India Institute of Medical Sciences, New Delhi, India
Residency
New York University School of Medicine, New York, NY
Fellowship
UC San Francisco Medical Center, San Francisco, CA
Board Certification
Dermatology, American Board of Dermatology
Learn More