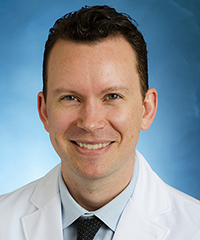 Marc Yonkers, MD
Job Title
Oculoplastic Surgeon
About Me
I am an ophthalmologist with fellowship training in oculoplastic surgery. I grew up near Seattle and have also lived in Colorado, Idaho, and Southern California. I joined Kaiser Permanente in 2017 after completing my residency and fellowship at UC Irvine and am fortunate to work with wonderful patients and colleagues here in the Bay Area.
My professional interests include surgical care for disorders of the eyelid and orbit. During my training, I completed a PhD in Neuroscience, working on thyroid hormone's effect on nerves, and became interested in thyroid eye disease. I also enjoyed working with microscopes and doing fine dissections and knew I wanted to work as a surgeon. My practice is now focused on treating tumors, fractures, eyelid malpositions, excessive tearing, thyroid eye disease, eye socket problems, and different congenital abnormalities around the eye. I have also been fortunate to publish research papers and give lectures at national meetings on oculoplastics topics.
My philosophy of care is to help you understand the problems and potential solutions so you can be involved in the treatment process. It is a privilege to be a physician and help you learn about and treat your condition. I value that at Kaiser Permanente we can work together to make the best choices for your health.
Hobbies and interests
I enjoy spending time with family and friends, exercise, and absolutely anything food related!
Medical Education
University of Colorado, Aurora, CO
Residency
University of California, Irvine, Irvine, CA
Fellowship
University of California, Irvine, Irvine, CA
Board Certification
Ophthalmology, American Board of Ophthalmology
Learn More