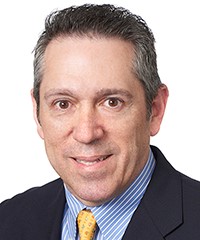 About Me
I grew up in Philadelphia and went to Albright College in Reading, PA where I earned a B.S. in Biology while playing football and running track. I attended medical school in Kansas City, MO and completed my hospital and dermatology residency training at Ohio University – Cuyahoga Falls General Hospital in northeast Ohio. Our children were both born in Cuyahoga Falls and we made some great life-long friends, but we were ready to get out of the cold and snow. After completing my residency in 1996, we moved south and I opened my dermatology office in Palm Coast, FL. I practiced general dermatology, surgical dermatology and cosmetic dermatology. I intended to have a significantly cosmetic practice, but as I saw more and more patients with skin cancer I realized that the diagnosis, treatment and prevention of skin cancer was my true passion. Over the years, I opened multiple satellite offices and employed many different physicians, physician assistants, nurse practitioners, medical assistants and other staff members. After 20+ years, I was getting worn out by the business part of medicine. I still had my passion to care for patients, but needed to relieve myself of the business and administrative responsibilities. Kaiser Permanente allows me to do exactly that.
I am so excited to be able to join such a great and talented group and continue my career in dermatology.
Professional Affiliations
Fellow America Academy of Dermatology
Fellow American Osteopathic College of Dermatology
Family and Friends
I have been married to a wonderful woman since 1989. My wife attended The Wharton School and The University of Pennsylvania Law School. She is a professor at an on-line university in the Political Science department. We have 2 great children. Our daughter went to Oberlin Conservatory and then earned her Masters in Vocal Performance at the San Francisco Conservatory of Music. She has performed in multiple opera and musical theater productions in the Bay Area. Our son went to the University of Chicago where he double majored in Math and Film Studies. We have 2 standard poodles, Linus and Lucy. (Yes, they are named after the Peanuts characters)
Hobbies and interests
My wife and I like to be active and enjoy running, biking, hiking, golf and travel. We enjoy spending time with our kids and are excited to be a car ride away from Tahoe so our "divided family" (my wife and son ski and my daughter and I snowboard) can hit the slopes. We enjoy taking our dogs for long walks in Howarth Park.
Recent Adventures
As a long suffering Philadelphia Eagles fan, I had the once-in-a-lifetime opportunity to attend Super Bowl LII in Minnesota with my wife and high school buddies and watch my Eagles win their first Super Bowl in franchise history! Go Birds!
Medical Education
Kansas City University of Medicine and Bioscience, Kansas City, MO
Internship
Western Reserve Hospital, Cuyahoga Falls, OH