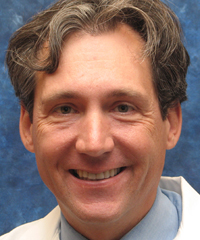 Robert McLaughlin, MD
Job Title
Head and Neck Surgeon
About Me
After graduating from the University of California, Davis with a major in Biology, I attended medical school at the University of California at San Francisco. I completed my surgical residency training in Otolaryngology, Head and Neck Surgery at the University of Pennsylvania. I returned to California for Fellowship training in Facial Plastic and Reconstructive Surgery at Stanford University.
Roles and Responsibilities
In addition to my clinical practice, I have an administrative role where I serve as Assistant Physician in Chief of Surgical Subspecialties and Venture development for the Sacramento and Roseville Medical Centers. In this capacity, I have developed an interest in leveraging our integrated model of care and technology to improve access to specialty care and advice, with an effort to improve patients specialty care experience.
Professional Affiliations
American Board of Otolaryngology
American Board of Facial Plastic and Reconstructive Surgery
My Staff
The caring staff in all of my departments are dedicated to ensuring you a convenient and coordinated care experience.
My Colleagues
Kaiser Permanente encourages collegiality, cooperation, and collaboration amongst all of its physicians. For the patients, their families and the communities we serve, this integration of exceptionally trained physicians, nurses and support staff working together to provide high quality, personal, convenient and coordinated care, is by far Kaiser Permanente's greatest advantage.
Family and Friends
I grew up in the central valley where much of my family still lives. It was there I met Angela, my wife, the person with whom I have shared most of life's wonder and challenges. We are blessed with two daughters.
Hobbies and interests
I enjoy spending time with Angela and our two daughters. In my free time, I enjoy running, hiking, and golf. During the winter months, I enjoy skiing with my family and friends. I am actively involved in various activities in my local community. If you would like to contribute to my health and wellness, I often need to be reminded to make more time for these things I enjoy outside of my professional life.
Recent Adventures
Family Vacation to South America and the Caribbean.
Medical Education
UC San Francisco, San Francisco, CA
Residency
University of Pennsylvania School of Medicine, Philadelphia, PA
Fellowship
Stanford University, Stanford, CA
Board Certification
Otolaryngology – Head and Neck Surg, American Board of Otolaryngology Head and Neck Sur
Facial Plastic and Reconstructive Surgery, American Board of Facial Plastic and Reconstructive Surgery
Learn More