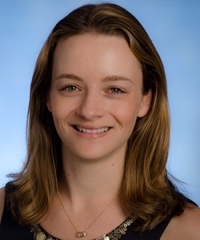 About Me
I am a board certified dermatologist and a Fellow of the American Academy of Dermatology. In 2011, I joined the Permanente Medical Group. I was born and raised in the East Bay and am very happy to return home. After spending my first 18 years here, I went to college at Yale University, where I received a bachelor's degree in Biology. I returned to San Francisco to attend medical school at UCSF, and then headed back to the North East for my residency training at the State University of New York, Downstate. In between these cross country moves, I have lived in Nicaragua and Zambia, where I worked in local health clinics and became fascinated with health delivery and access to health care.
Roles and Responsibilities
My role first and foremost is to give you the best possible medical care. I work in San Francisco where I see patient of all ages. I also spend time as a "roving" dermatologist, where you may meet me at a visit with your primary physician or another specialist. As part of your team of doctors here at Kaiser Permanente, I am privileged to help provide you with up-to-date, timely, integrated health care.
Professional Affiliations
Fellow, American Academy of Dermatology
Member, American Medical Association
Member, San Francisco Dermatology Society
My Staff
Our dermatology team includes experienced dermatology nurses, medical assistants and office staff. I am fortunate to be a member of such a well trained and knowledgeable team.
My Colleagues
As a Kaiser Permanente dermatologist I am part of an integrative team of physicians and health care professionals. Our dermatology department provides excellent quality of care in general dermatology, with the help of our subspecialists in pediatric dermatology, Mohs surgery and dermatopathology. Our amazing medical record system allows me to communicate with your other health care providers to provide you with a comprehensive and cohesive care plan. I look forward to meeting you and helping you with your health care needs.
Medical Education
UC San Francisco School of Medicine, San Francisco, CA
Residency
Suny Downstate Medical School, Brooklyn, NY
Board Certification
Dermatology, American Board of Dermatology
Learn More