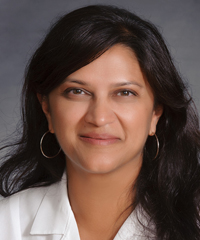 About Me
I was born in India but I have lived in the United States for 40 years. I completed my education and medical training on the East Coast. Searching for warmer climate, my family and I moved to California fifteen years ago. I am in the office for a modified 4 days/week schedule ("school-hours") and have been fortunate enough to spend quality time with my children through their growth years. I have two children in college, attending UC Berkeley and UC Davis. The third enters high school in fall 2015, getting ready to make her exit soon…
Prior to joining Kaiser Permanente, I worked in private practice in Baltimore, Maryland. I had a tremendous opportunity to refine my general medical/surgical skills and learn a great deal about cosmetic dermatology. I performed a variety of cosmetic procedures, participated in various clinical trials, and developed new applications for lasers.
I joined Kaiser Permanente in 1998 and have always been at the South Sacramento Medical Center. I enjoy working here with a team of incredible physicians. I feel that my colleagues and I provide superior dermatological care, and I would not hesitate to recommend any one of them to a family member!
Roles and Responsibilities
I am a medical and surgical dermatologist. I have 20 years of experience and my interests include pediatric, surgical and cosmetic dermatology. As a member of the American Academy of Dermatology, I enjoy keeping current on new therapies and advances in my field, as well as educating colleagues and patients. I am the Chief of Cosmetic Dermatology at South Sacramento/Elk Grove. I am familiar with numerous cosmetic procedures, including Botox, fillers, sclerotherapy, and a variety of lasers.
Even though I am a dermatologist, I feel strongly that issues of general health, such as sun protection, smoking cessation and maintaining a healthy weight, are extremely important to living a full life. We all need support and encouragement around us. I have an extremely busy schedule; however, I feel that exercise is a crucial part of my day and a great stress reliever. And often, an exercise partner helps!
Professional Affiliations
American Academy of Dermatology
California Medical Association
My Staff
The dermatology staff includes an extremely dedicated and professional group of cashier receptionists, medical assistants, and nurses who continually strive to better the experience of our patients.
My Colleagues
My partners and I collaborate closely. We discuss challenging cases and meet to review our patient care plans. If I'm on vacation or at a meeting, my partners are well informed of any patients who need to be followed in my absence.
Medical Education
Johns Hopkins University School of Medicine, Baltimore, MD
Residency
George Washington University, Washington, DC
Board Certification
Dermatology, American Board of Dermatology
Learn More